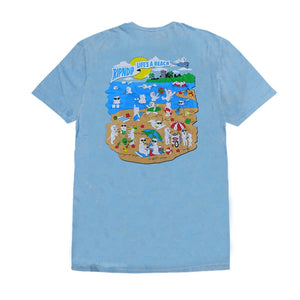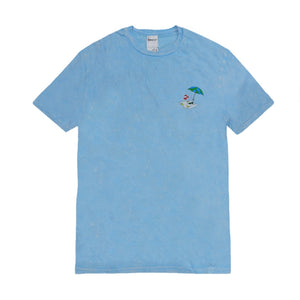 RIPNDIP LIFES A BEACH TEE - LIGHT BLUE MINERAL WASH
The RIPNDIP Life's a Beach Tee in light blue mineral wash is a stylish and laid-back t-shirt that captures the essence of beach life. Made from soft and lightweight cotton fabric, this tee offers a comfortable and relaxed fit, perfect for casual and summer-inspired outfits.
The standout feature of this tee is its vibrant graphic print on the front. It showcases a playful and cartoonish design of a cat wearing sunglasses under a palm tree in the background. The inclusion of the "Life's a Beach" slogan adds a carefree and adventurous vibe to the shirt, serving as a reminder to embrace the beach and embrace the summer spirit.
Please take note that all measurements are based on inches and the size chart serves as a guide and reference only. The size may vary depending on the designs and styles of the shirt.
| | | | |
| --- | --- | --- | --- |
| Size | Body Length | Chest | Sleeve Length |
| Small | 27.2 | 19.7 | 7.9 |
| Medium | 28.7 | 21.3 | 7.9 |
| Large | 29.1 | 21.7 | 7.9 |
| X-Large | 29.9 | 23.6 | 8.3 |