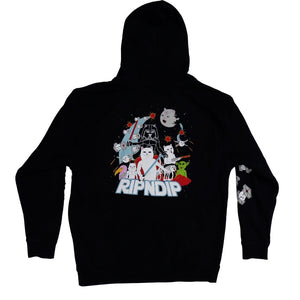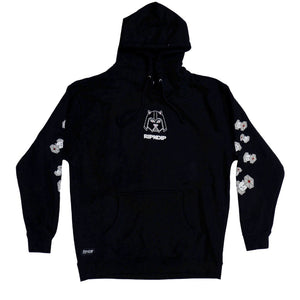 RIPNDIP FAR FAR AWAY HOODIE - BLACK
The RIPNDIP Far Far Away Hoodie in black is a stylish and comfortable hoodie that showcases the brand's unique and playful aesthetic. This hoodie is perfect for adding a touch of streetwear fashion to your wardrobe.
Made from a soft and cozy fabric blend, the hoodie offers warmth and comfort during colder days. The black color gives it a versatile and timeless look that can easily be paired with various outfits.
The standout feature of this hoodie is the captivating graphic on the front. It depicts a whimsical scene of a cat floating through outer space, surrounded by stars and planets. The vibrant colors and intricate details of the artwork make it visually appealing and eye-catching.
Please take note that all measurements are based on inches and the size chart serves as a guide and reference only. The size may vary depending on the designs and styles of the shirt.
| | | | |
| --- | --- | --- | --- |
| Size | Body Length | Sleeve Length | Chest |
| Small | 27.8 | 24.2 | 21 |
| Medium | 28.9 | 24.4 | 22.8 |
| Large | 30.3 | 25.6 | 24.4 |
| X-Large | 31.9 | 26.4 | 26.2 |