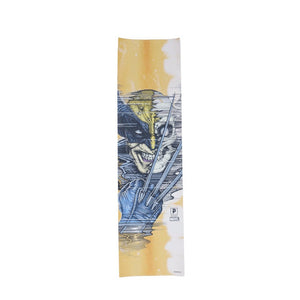 PRIMITIVE WOLVARINE GRIPTAPE - GOLD
The Primitive Wolverine Grip Tape in Gold is a must-have for skateboarders looking to add style and functionality to their boards. This grip tape features a bold and eye-catching gold color, giving your skateboard a unique and attention-grabbing look.
The grip tape is made from high-quality materials that provide excellent traction and grip, ensuring that your feet stay firmly planted on the board while performing tricks and maneuvers. It features a perforated design that allows air to escape, preventing the formation of air bubbles and ensuring a smooth and consistent grip.