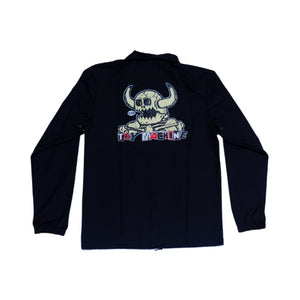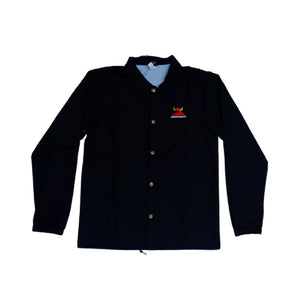 INDEPENDENT X TOY MACHINE MASH UP COACH JACKET - BLACK
The Independent x Toy Machine Mash Up Coach Jacket in black is a collaborative piece between Independent Trucks and Toy Machine. This coach jacket combines the style and functionality of a classic coach jacket with the unique aesthetics of both brands.
The jacket is constructed with a durable and lightweight material, making it suitable for various weather conditions. It features a black colorway, providing a versatile and timeless look that can easily be paired with different outfits.
On the front of the jacket, you'll find the Independent logo embroidered in white, representing the renowned quality and craftsmanship associated with Independent Trucks. The Toy Machine logo is also prominently displayed, showcasing the iconic and edgy visuals that the brand is known for.
The back of the jacket features a striking and eye-catching graphic that combines elements from both Independent Trucks and Toy Machine. This mash-up design captures the rebellious and creative spirit of skateboarding, making it a perfect choice for skateboarders and fans of both brands.
The coach jacket is designed with a relaxed fit and features snap button closures, allowing for easy on and off. It also includes ribbed cuffs and a drawstring hem, providing a comfortable and adjustable fit.