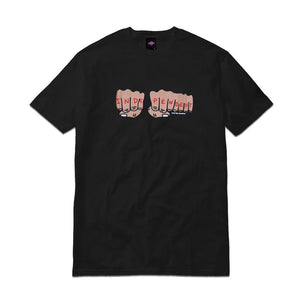 INDEPENDENT X TOY MACHINE FIST TEE - BLACK
The Independent x Toy Machine Fist Tee in black is a collaboration between Independent Trucks and Toy Machine, two renowned brands in the skateboarding industry. This tee features a simple yet striking design that showcases the iconic Toy Machine Fist logo combined with the Independent logo.
The front of the tee displays the Fist logo prominently, which is a well-known symbol associated with Toy Machine's rebellious and edgy aesthetic. The Fist logo represents strength, determination, and a defiant attitude that resonates with skateboarders and fans of the brand.
The tee is made from high-quality materials to ensure comfort and durability. The black color provides a versatile and timeless look that can be easily paired with various skateboarding outfits.