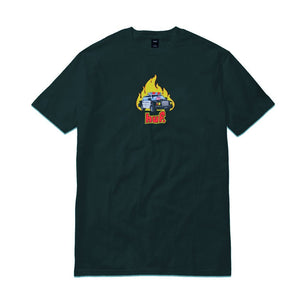 HUF ROASTED TEE-DARK GREEN
The HUF Roasted Tee in dark green is a classic short-sleeve t-shirt made from 100% pre-shrunk cotton. It features screen-printed artwork at the center chest, adding a bold and stylish touch to the design. The artwork represents the phrase "The heat is on," which adds a playful and energetic vibe to the tee. Additionally, the t-shirt includes a HUF woven label at the interior neck, showcasing the brand's attention to detail. With its comfortable fabric and eye-catching design, the HUF Roasted Tee is a great choice for those looking for a cool and casual t-shirt option.
Please take note that all measurements are based on inches and the size chart serves as a guide and reference only. The size may vary depending on the designs and styles of the shirt.