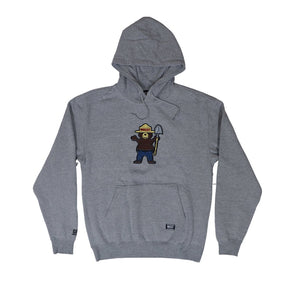 GRIZZLY SMOKEY HOODIE - HEATHER GREY
The Grizzly Smokey Hoodie in heather grey is a classic and cozy hoodie that combines comfort with style. Made from a soft and warm blend of materials, this hoodie is perfect for keeping you warm during colder days. It features the Grizzly logo printed on the front, adding a touch of branding to the design. The heather grey color gives it a versatile and timeless look, making it easy to pair with various outfits. The hoodie also includes a drawstring hood, kangaroo pocket, and ribbed cuffs and hem for added comfort and convenience. Whether you're lounging at home or heading out for a casual day, the Grizzly Smokey Hoodie is a reliable and stylish choice.
Please take note that all measurements are based on inches and the size chart serves as a guide and reference only. The size may vary depending on the designs and styles of the shirt.